PISTACHIOS OF BRONTE
Ever since I was a child, every time I read the Bronte pistachios card in the ice cream shop, I would ask myself "what does a pistachio plant look like"?
Above all though, I would ask myself "What makes this variety so unique and special"?
I decided to aim directly for the slopes of Mount Etna to discover something more about the so called "green gold" as the Bronte pistachios are called – the most important economic resource of that area, and from 2009 granted the DOP marque (Protected Designation of Origin), following the Slow Food movement.
DOSicily.com is the perfect synthesis of nature and technology, an expanding innovative company, which represent the e-commerce platform that was created to promote the fruits of our land cultivated with love: the pistachio of Bronte and its derivatives.
Every story has got the roots and the desire for new challenges incite us to invest in an innovate tradition of Bronte; we offering products of the highest quality with rich genuine flavors which maintaining the natural taste and smell.
The idea sprang from a young Sicilian businessman; he created an innovative and fast work instrument which it was able to represent the pistachio in all its forms.
What does DOSicily mean?
This name has got three meanings: from DOS "Sicilian Products Origin", "Designation from Sicily", but the literal meaning in English is "Do Sicily"; the same land that preserves the traditions and culture but now it feels the necessity to be acquainted with their products all over the world. In fact DOSicily.com was born in Bronte, a capital city of pistachio in the world.
The pistachio is dubbed "Green Gold" because it is a precious fruit that grows on the slopes volcanic of Etna.
For all those, who want to take home a piece of Sicily, the company "DOSicily" is the right place!
This site offers a variety of products with excellence and extraordinary culinary versatility; you can use these products for appetizers, first hot and cold courses, meat and fish.
This company is the perfect work instrument for business like ice-cream shops, cake shop and restaurant with a list of semi-finished and pure pistachio paste, as fine for the preparation of excellent pistachio ice-cream, Sicilian pistachio water-ice (Granita) and green pistachio pesto sauce for fresh pasta and delicious stuffing.
A variety products like shell and unshelled pistachios, grain and naturally grinded pistachios are good for realize incredible recipes, and increasing their quality level. Moreover, our specialty gastronomic confectionery such as Christmas pistachio sweets given as gifts.
All successes have got their secret, for DOSicily.com is to present excellent products for quality and taste in the world.
Visit Shop Pistachio Products :
Some advices recipes:
Pistachio and fruit stuffed blinis
Ingredients:
Durian and Pistachio filling:
- 2 cups durian flesh
- 1 cup pistachios, coarsely ground
- 1 tablespoon confectioner sugar

Blini Batter
- 1 cup whole wheat flour
- 1 1/2 cups water
- 1 teaspoon agave nectar
- 1 teaspoon baking powder
- 1/2 teaspoon yeast

Preparation:
Step 1: Durian and Pistachio filling:
In a bowl, mix all the ingredients together until well blended, cover and refrigerate until ready to fill the blinis.
Step 2: In a bowl, mix all ingredients with a hand mixer or a whisk until well blended and smooth. Let rest for 5 minutes.
Step 3: In the meantime, on a medium low flame, heat a non-stick skillet for a couple of minutes before starting the blinis.
Step 4: Pour batter in skillet using a measuring cup (to allow for uniformity in size), making individual blinis to the size desired. Once the top dries out, it should be ready to remove. Cook only on one side.
Step 5: Remove with a spatula and repeat process until the batter is finished. The process goes really fast once the skillet temperature is calibrated appropriately.
Step 6: To fill the blinis, spoon a tablespoon of the filling and place in the center of the blini. Fold in half and press the edges together to close it.
Step 7: You may leave a little part unpressed to show the filling. Sprinkle ground pistachios and serve with a small drizzle of agave nectar.

Fonte autore:http://www.myfreshlevant.com/ FreshLevant
Cardamom, pistachio, almond & honey ice-cream
Ingredients:
- 4 eggs yolks
- 125 g sugar
- 300 ml low fat milk
- 200 ml liquid cream
- Vanilla
- 1 tea spoon ground cardamom
- Crushed pistachios & almonds
- Honey
Preparation:
Step 1: Mix the egg yolks and sugar in a bowl. In a pot, bring the milk, cream, cardamom and vanilla to boil.
Step 2: Pour the boiling milk mixture over the cold mixture (eggs + sugar) while stirring.
Step 3: Return to heat and continue to stir until the cream starts to thicken.
Step 4: This stage of cooking is known as nappe which is achieved between 82-85C.
Step 5: If the cream is not heated sufficiently, the ice-cream will be thin and watery. Remove the pot from the heat and stop the cooking process by place it in cold water mixed with ice cubes.
Step 6: Pass the mixture though a strainer and transfer to your ice-cream machine.
Step 7: Add the crushed pistachios and almonds before churning. Follow manufacturers instructions. Half way through the churning, add the honey (while ice-cream is still churning).

Fonte autore:http://swirlandscramble.blogspot.it/ MariannaF
Saffron almond pistachio cupcakes
Ingredients:
All purpose flour: 1 cup
Sugar: 1/2 cup
Baking Powder: 1tsp
Baking Soda: 1/2 tsp
Orange zest : 1 tsp
Eggs: 2
Butter: 1/4 cup or Margarine
Milk: 1/2 cup
Saffron: 1 tsp, dissolved in milk and few strands for garnishing
Almonds: 1/4 cup, coarsely ground and few for garnishing
Pistachio: 1/4, coarsely ground and few for garnishing
Preparation:
Preheat the oven to 350F/180C. Line the standard muffin pan with the paper liners.
In a bowl, mix the dry ingredients - flour, sugar and baking powder, baking soda.
Stir saffron strands in warm milk and set aside.
In another bowl whisk eggs, butter and milk, until fluffy.
Gently fold the wet ingredients in the dry ingredients to make smooth batter.
Divide the batter into three bowls.
To make Saffron cupcakes, add orange zest and saffron diluted in the milk to this mix.
To make Almond cupcakes, add coarsely chopped almonds to the mix and lastly for Pistachio cupcakes, add chopped pistachio.
Fill each muffin cup with 2/3 rd batter.
Bake the cupcakes for approximately 20 minutes until they are golden brown and fork inserted comes out clean.Let the cupcakes cool down before doing any icing/decorations.
For Icing:
Confectioners Sugar: 1cup
Butter: 1/4 cup
Vanilla extract: 1/2 tsp
Milk: 1tsp
Whisk sugar and butter with blender. Add vanilla and milk and give a quick churn until smooth and of spreading consistency. Else can also use ready to use frostings available at supermarkets.
For Saffron Cupcake, mix few strands of saffron to the frosting to get glowing yellow cupcakes.
For Almond cupcakes, mix chopped almonds to the frosting to get silky white cupcakes.
For Pistachio cupcakes, mix chopped pistachios to the frosting to make green delectable cupcakes.

Fonte autore:http://www.mycreativeflavors.com/
Strawberry & pistachio financiers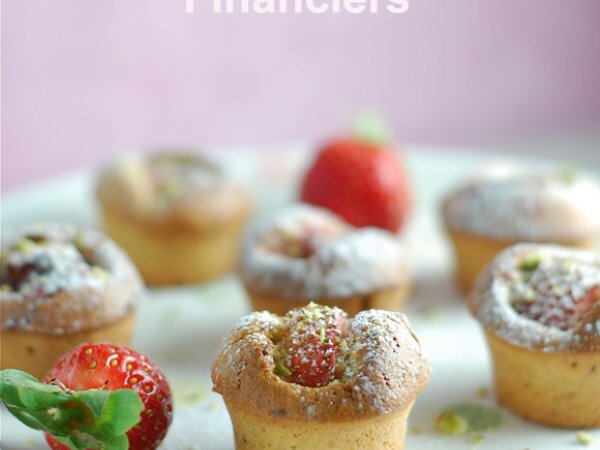 Ingredients:
- Almond powder, 50g
- Pistachios (ground), 100g
- Butter, 75g
- Icing sugar, 80g
- Flour, 30g
- Egg white, 3
- Strawberries, 20
Preparation:
Step 1: Melt the butter in a saucepan until it's slightly brown. Set aside and keep it warm. Grind pistachio until fine, almost like powder.
Step 2: In a bowl, put in ground pistachio, almond powder, flour, icing sugar. Mix well. Then, put in the melted butter and give it a good mix.
Step 3: Now, put in the egg white. At this point, you need to use electric mixer/whisk to mix all the ingredients until double their volume. Cover and put the mixture in the fridge to chill for 2 to 4 hours.
Step 4: Preheat the oven at 180°C.
Step 5: Use mini muffin mould (with 3cm diameter) or the classic rectangular mould. Spoon the mixture into the mould.
Step 6: Slice or quarter the strawberries. Put it and push it slightly into the mixture. Meanwhile, roughly crush the pistachios and sprinkle on top of the mixture.
Step 7: Put the mould in the oven, and bake for about 20 minutes or until the financiers rise and golden brown. Remove from mould sprinkle a little bit of icing sugar.

Fonte autore:http://www.mycookinghut.com/
The chopped pistachios to decorate and enjoy your best recipes
Cake strawberries and pistachios from Bronte,cakes and pests typical Italian,Panettone Artisan pistachio,Sale of creams,pistachio recipes,Online sales Bronte Pistachio,Crunchy & Torron,Chopped pistachios
Small pistacchio and almond dessert cakes from Bronte,refined sicilian dessert cake
Italian food products for pastry,Sicilian pesto pistachio,food products in promotion,Dove Pistachio Green gold DOP,chopped pistachios,Creme Sicilian sweet spreads,Sale Bronte Pistachio online